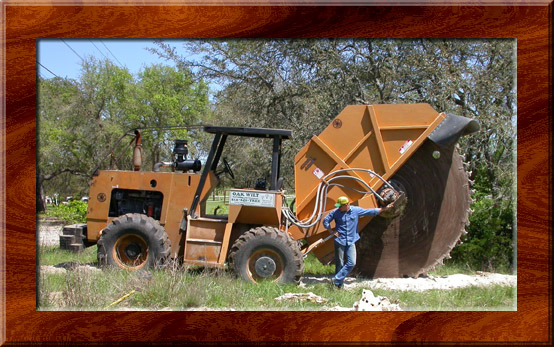 Our Custom Built Rock Saw Severs Roots to a depth of 5 feet (60 inches)
The Case for Root Trenching

Oak Wilt spreads quickly through the interconnected root system of Live Oaks. Root trenching severs the root connections creating a barrier to the spread of the disease. Over the years, trenching techniques have been refined so that Oak Wilt suppression trenches (as they are commonly called) have become the most practical way to save large numbers of trees with the least expense. On a cost per tree basis, trenching is far more economical than tree injections. Experience and knowledge are key to the success of suppression trenches. Cutting the trench is only a small part of the suppression process. Placement and depth of the trench are critical. Without the proper tree knowledge, undesired tree mortality can occur from trenching damage as well as Oak Wilt. Our company has the experience and training to avoid these problems and install a proper suppression trench. In cooperation with the Texas Forest Service we have developed a superior trenching protocol.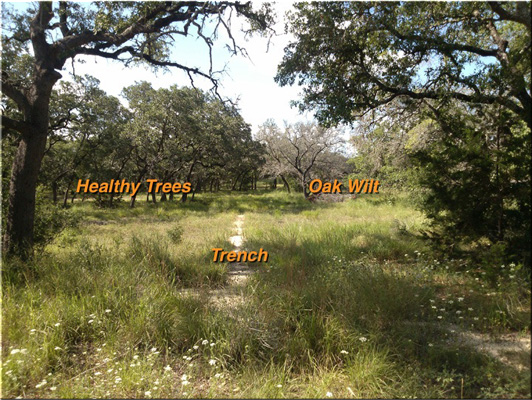 This Photo Illustrates how a Successful Trench has Blocked the Oak WIlt
Proper Trench Placement

We identify the Oak Wilt centers and infected trees and measure the appropriate offset distances (usually 100 feet or more from the nearest symptomatic tree). Care must be taken to project disease advancement into the future so that barrier trenches are not outflanked quickly. Our trenching manager re-checks the line before starting the project. On large acreage tracts or thick brush, we can use satellite mapping and GPS to identify and locate Oak Wilt infection centers. We then survey the suspected areas on foot to confirm disease presence.
Clearing the Trench Path

We hand clear the trenching path. Our equipment is disinfected at the start of each day and between each Oak tree. We immediately paint all Oak wounds with a pruning sealer including any stumps.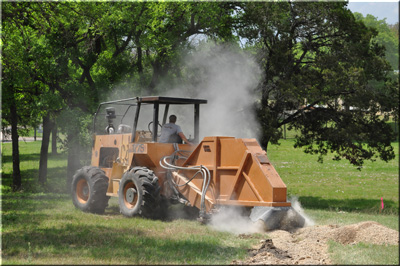 Trench Installation can be Dusty

Trench Installation

Our company owns and maintains two custom rock saws. These machines cut to a depth of 60 inches with a width of 4 inches. Our cutting depth is 12 inches deeper than the minimum requirement of the Texas Forest Service and is 11% deeper than the next largest rock saw available. In order to minimize damage to your property, our saw has rubber tires which reduces surface scarring. The machine automatically backfills the trench. This shortens project time and reduces damage to the area near the trench. If deep soils are present, we use other excavation equipment to dig deeper. In deep soil areas, it is not unusual to find roots at a depth of 8 feet or more. In order to be effective, the trench must cut all of the roots. While we work on your property, we are very mindful of tree health issues like critical root zones and proper pruning cuts on trimmed trees. That is one of the reasons we have ISA Certified Arborists managing your project.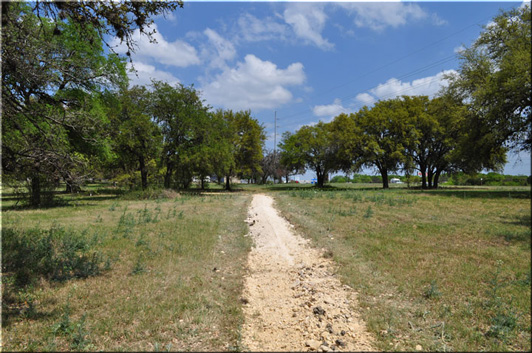 The Finished Trench is Fairly Clean

Alternate Trenching Strategies

The best practice is to completely contain the disease within a trench. Property lines, topography and disease center size may preclude total containment. Blocking trenches can be installed to prevent advancement of the disease in a particular direction. In areas where the disease is widespread, we can create a "protected island" using a trench to keep Oak Wilt out of an area of healthy trees.
Use our Trenching Expertise

Oak Wilt suppression is our specialty; and we are tree care professionals. Our protocols and tree knowledge greatly surpass the basic cutting principles of other contractors. Our equipment is maintained by us. We have two rock saws so we minimize down time are more efficient and can complete your project faster.
We believe in working with our customers to design and install the best trenching solution that properly balances economics, tree health and property value.