Reports and Maps
Oak Wilt management is an ongoing process that can span several years. Multiple treatment phases, trench installations and surveys may occur over this time period. Our company has the ability to build a treatment portfolio mapping out where work was performed and when. Especially important on larger properties, these reports and maps are invaluable as time passes and memories fade.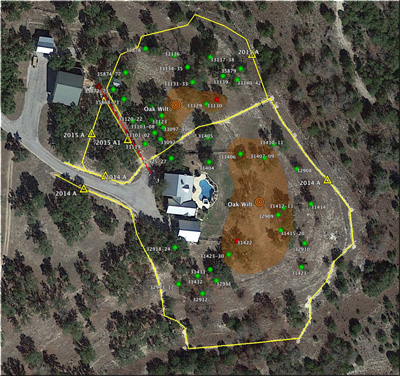 Using GPS technology, maps can be overlaid on aerial or satellite imagery (as shown in the sample) or plotted onto conventional property surveys. Oak Wilt Specialists has the computer expertise required to either supply completed maps (both hardcopy and electronic copy on CD ROM) or to supply you with just the raw GPS data.
Documentation is most helpful during a property transaction to provide a record of a diligent and thoughtful Oak Wilt management effort.
Worm Spraying
Defoliation from Oak Leaf Rollers and Canker Worms can be devastating in Central Texas. Periodic defoliation from these pests can be tolerated by healthy trees. However, when drought and Oak Wilt damage are added to the mix, tree health can be severely impacted. Striking during the spring just after tender new leaves are formed, these insects can strip a tree bare in a week or less. The worms also are a nuisance around walks and patios as they trail off the trees on silk threads. Our company provides insect spraying services during the spring to prevent the hatch of leaf eating pests. Your trees are healthier because they do not have to push out a second flush of leaves. Contact us in February to schedule this treatment.
Ball Moss Spraying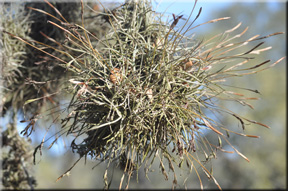 Ball Moss (tillandsia recurvata) is a plant that grows on the branches of trees. Similar to Spanish Moss but not nearly as attractive, this pest is generally not a major threat to tree health. However, if the infestation is large enough, the moss can effectively shade out leaves and reduce the canopy of the tree. If the tree is also struggling with Oak Wilt this can be a problem. In addition, if the tree is already thin due to disease damage, the ball moss is more visible causing the tree to look less attractive. Our company can help abate the ball moss problem by spraying a product on the tree during late winter. Contact us in January to schedule this treatment.
Educational Seminars and Training
There are many myths and mysteries surrounding Oak Wilt and tree health in general. With a little extra knowledge, people can become better stewards of the land and reduce the damage caused by Oak Wilt. We have developed several presentation packages that answer the major questions surrounding Oak Wilt in Central Texas. We would be delighted to come to your gathering to present our thoughts on Oak Wilt and related treatments and protocols. We have presented to real estate companies, industry organizations, home owners associations, gardening clubs, and interested neighborhood groups.
We often are asked to provide training to property owners interested in "do it yourself" tree injections. Please contact us if you are interested in a training session.
What we Don't Do
We focus on Oak Wilt and related issues. This is a serious business to us and especially to our customers and we do not want to take our eye off the ball by trying to provide every tree service out there. We train our technicians thoroughly on Oak Wilt treatment protocols. It would be difficult, if not impossible to be clearing brush one day and then switch gears to the complicated task of excavating and injection of roots on your heritage Oak the next day.
We follow protocols developed and improved by the Texas Forest Service, Texas A&M, and other academic and scientific organizations. We do not subscribe to remedies that have not had scientific validation of positive results.